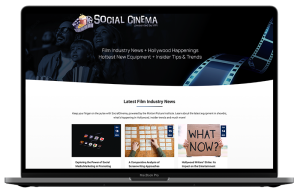 Lights, camera, action! Get ready to immerse yourself in the alluring realm of movies with SocialCinema. Step behind the curtain and uncover the secrets that make the silver screen sparkle. Whether you're a devoted cinephile, an aspiring filmmaker, or simply fascinated by the allure of Hollywood, SocialCinema is your ultimate ticket to a captivating journey through the world of movies.
Experience Exclusive Insider Access
Prepare to be captivated as we unlock the doors to exclusive, behind-the-scenes access. Our team of industry insiders and passionate movie enthusiasts will take you on a thrilling adventure, sharing captivating stories, fascinating interviews, and hidden gems that will leave you starstruck. From legendary filmmakers to rising stars, get up close and personal with the luminaries who shape the movies we adore.
Indulge in Sensational Cinematic Experiences
Immerse yourself in a world of cinematic wonders. Delve into our carefully curated content, featuring in-depth analysis, thought-provoking articles, and engaging discussions about the latest cinematic masterpieces. From heart-pounding blockbusters to thought-provoking indie gems, we'll ignite your imagination and expand your appreciation for the incredible artistry and storytelling that define the magic of movies.
Unveil the Craft of Filmmaking
Ever wondered what goes on behind the camera? Join us as we peel back the layers and reveal the intricacies of the craft. Discover the secrets of visual effects, uncover the art of cinematography, and explore the nuances of screenwriting. Our expertly crafted resources will satisfy your thirst for knowledge, empowering you to appreciate the intricate details that bring movie magic to life.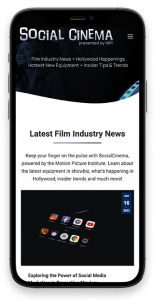 Join a Vibrant Community of Movie Enthusiasts
SocialCinema isn't just a platform; it's a vibrant community of movie lovers, creators, and dreamers. By subscribing, you'll become part of a dynamic network, connecting with like-minded individuals from around the globe. Engage in lively discussions, share your thoughts, and forge meaningful connections with fellow enthusiasts who share your passion for the silver screen.
Subscribe Now for an Unforgettable Cinematic Journey
Embrace the siren call of SocialCinema and embark on a journey that will leave you breathless, entertained, and craving for more. Discover the secrets, stories, and magic that await you in the captivating world of movies. Visit our website at https://motionpicture.edu/socialcinema/ up and subscribe now to start your extraordinary cinematic voyage. Let the allure of Hollywood and the enchantment of the movies be your inspiration. Lights, camera, subscribe! The adventure awaits!