Students have access to our state of the art equipment,
fully equipped labs, and professional stage with green screen.
The school campus operates inside a former commercial production facility and occupies approximately 18,775 square feet that features a 6,000 sq ft soundstage, a 3,300 sq ft scene shop, equipment bays, computer lab, screening room, private edit suites, conference rooms, cafe and offices.
The MPI soundstage is a 6,000 sq foot freespan production space with a 20' high ceiling. A 18' high "L" shaped cyc wall enables students to shoot green screen, white, gray and black backgrounds. The stage also has a rolling green screen wall for mobile shots.
The stage is equipped with stage electrical to power the school's assortment of 5k, 2k and 1k lighting fixtures including fresnels, fluorescents, LED and HMIs. The Stage is used for classroom instruction, in-class productions and is accessible for individual student film productions throughout the year. It is equipped with a camera crane, matthews dolly, Mole Richardson & Arri Lighting, c-stands, hi-rollers, flags, frames, butterflys, apple boxes, grip clamps , sandbags, carts, and gel packages.
MPI utilizes a 3,300 sq foot small stage with 20' high ceiling deck. This stage is used for classroom instruction, and in-class and out of class student film productions. There are four free standing sets that can be configured into a variety of interior rooms.
Within the small stage there is a scene shop area with tools for fabricating sets, set pieces, furniture, dressing and flooring materials to construct a variety of rooms and interior's along with door sections, stage flats, windows, furniture, scenic backgrounds, props and set pieces.
The school offers two War Rooms, where battles are won before they are fought. These conference style rooms come complete with speaker phone, playback monitors, white boards and floor power.
The Sound Mix room features an HP Z840 workstation with Davinci and Fairlight software. Surround sound monitoring comes through a 5.1 speaker configuration with focal speakers. The room also includes a sound proof ADR booth for voice over and dialogue replacement.
This room is designed for lectures, group discussions, screening student film projects and conduct crew meetings. The room comes with a 120" screen, DLP projector, blu-ray, and a 5.1 surround sound system. Seats up to thirty-two people.
The Learning Resource Center contains a library of film and acting texts, manuals, screenplays, and hundreds of films on dvd and blu-ray. The center includes computer workstations for doing research online using the MPI Linked-In Library.
Everyone needs a break, quiet time, or social hour. The Loubert Cafe offers students a place to relax or focus. The cafe comes with complimentary coffee and popcorn. Beverages are available from our beverage machine.
The Galley is a kitchenette with a sink, refrigerator, microwave, coffee maker, and Keurig for students to prepare snacks, make something to eat or stash their lunches til break.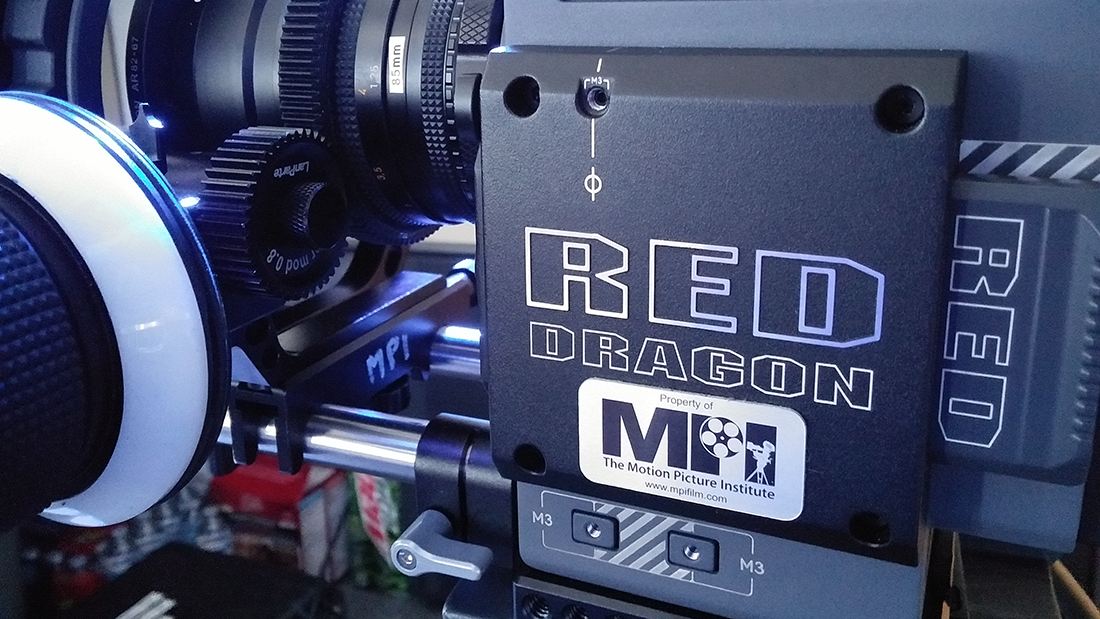 The school offers students a wide variety of production equipment to train on and to use on their film projects. Each year MPI invests in new technologies while maintaining its traditional and established film hardware. The school Armory houses a multitude of camera, lighting, audio and grip equipment packages. MPI provides students with all their gear needs for the program which is covered by tuition at no additional cost.
Camera systems include: RED Dragon-X 6ks, RED Scarlet MXs, RED ONE MX 4.5k, Canon C100 Mark ii digital cameras, Zeiss prime lens kits. Angenieux, Canon, Tokina, RED cinema zooms, Follow focuses, matteboxes and filters. Manfrotto tripods, baby sticks, hi-hats. 7"and 21"HD field monitors. AC Kits with slates, light meters, camera tape etc. JVC 4k camcorders, GoPros and Canon DSLR cameras. Film cameras include 16mm Arri16SR, Arri16S, CP16 Bolex systems and 35mm Arri camera system.
Field audio kits include: Sound Devices Recorders (744 and 702), Sound Devices Mixers (302 and premixes), Zoom F4 recorder/mixers, Zoom H4n recorders with Shure FP-33 mixers, Audio Technica shotgun mics & wireless mics, Sennheiser wireless mic systems, headphones, amplifiers, boompoles, shock mounts, pistol grips, windscreens and blimps.
Lighting systems include: Arri portable light kits, Draycast LED panels, Kino Flo 4 bank and 2 bank kits, Arri 2k and Mole 2k lighting, Mole 5k lighting units and HMI.
Grip and Electric systems include: Matthews doorway dollies, skater dollies, sliders, jibs, camera crane, c-stands, hi-rollers, 12x frames, 8x frames, 6x frames, 4x frames, butterflies, flags, silks, scrims, nets, griflons, reflectors, greenscreen, mafer & cardelini clamps, pigeon plates, risers, dimmers, stingers, appleboxes, sandbags, distro boxes, and gel packages.
Follow MPI On Social Media