There are a lot of people out there who have great movie ideas. You've probably only heard of a few though. To be successful, you need both the vision and the drive to see things through to completion. That's where having the proper training and picking the right school comes in.
You're invited to step inside the journey of award winning Director and MPI alum Robert Butler. Listen to him talk about his voyage to MPI. He will share why he decided on MPI over schools in LA and New York, all of which he was accepted to.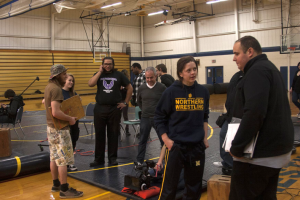 During his time in film school, he was creatively liberated and fulfilled. He learned the power of collaboration and how to work well with others. When asked about his greatest memory in school, he talks about driving up to the UP to shoot one of his thesis films.
Get the full story on how he made the most of film school and went on to shake the festival circuit. Attend our February 29, Open House (10 AM-11:30 AM) to learn more. Registration is complimentary and light refreshments will be served. Visitors will participate in a filmmaking and acting demonstration on a live set with equipment. They will also see our Camera/Lighting & Editing Facilities in action.
About Director Robert Butler
Robert Joseph Butler has made his impact immediately felt on the Michigan film landscape. In two short years he has gone from the best directing award at the Motion Picture Institute of Michigan to making professional short films that have been exhibited at festivals around the country. With his tremendous vision and passion, Robert has successfully directed films, gained critical acclaim, achieved distribution and drawn an audience and following to his films.
Robert Butler's previous short films such as THE GIRL ON THE MAT, THE SPIRIT OF ISABEL, OLIVIA'S CROSS, and WITHIN have collectively won over 40 AWARDS on the Festival Circuit. They were sold to Shorts TV, a global home of short movies with the world's largest catalogue of high quality short movies available on TV, online & in theaters. THE GIRL ON THE MAT was placed as "Movie of the Week" by Shorts TV on the week of January 23.
Robert Joseph Butler's debut feature film "Love Immortal" was screened for competition at the 2019 Anthem Film Festival in Las Vegas, and the film was also awarded Best Horror Feature at the 25th Annual Indie Gathering Film Festival. LOVE IMMORTAL (trailer below) was recently picked up and distributed by film distributor ITN, a reputable film distributor which will be releasing the film later this year on the streaming platforms. Robert is currently in-development on his second feature film titled THE SEASONS OF ANNA.