Delores Flynn Turns Childhood Film Watching Hobby Into Career
As far as Delores Flynn can remember, she has always loved films! While growing up as a child in Chicago, she would go to Blockbuster every Friday, grab a movie, sit down at home and just enjoy it! She remembers watching Jaws for the first time and how the story plus sound moved her…she was hooked! Her love for film grew as time went on but she ultimately went down another path, journalism, because it was not introduced to her that she could work in film as her career. One day she was driving down Crooks Road in Troy, caught sight of the Motion Picture Institute, and the rest is history!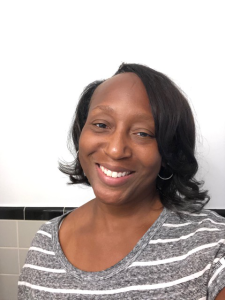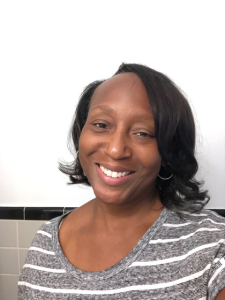 When she started in the one year filmmaking program, she knew that with her journalism background, she could write well, but wanted to experiment with visuals and sounds to move stories from the page to screen. In addition to hearing from industry pro turned instructors in the classroom, Delores says that one of the biggest wins for her were the relationships she built. While working on real film projects with her classmates, she found her strengths and partners to collaborate with. Many of them continue to support her work post graduation, including her latest film "Why Me!?"
"There were a couple of hard days towards the end of the six-day production of "Why Me!?". But it was a wonderful feeling and a blessing to be able to have friends (and MPI alum) on set who were crew members that offered encouragement just when I needed it. Kara Canton, Travis Williams, and Kilo McMillian – thanks for having my back."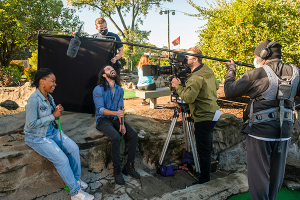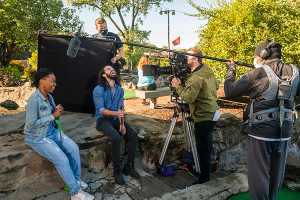 Having a good crew is essential and Delores has worked hard to build her network and as a result, knows exactly who to turn to for the various positions she needs filled on set. She credits her on-set experiences at MPI for helping her build a strong foundation that has served her well in the independent filmmaking world. She says her best on set experience was:
"Working with the actors and watching them really connect with the material and deliver outstanding performances. There were a few times on set for "Why Me!?" where the lead actors made choices that I wasn't expecting and was completely blown away. One day I turned around after a take and learned that some people were in tears." 
The film "Why Me!?" is a true story based on the life of a dear family member of Delores who was abused by her husband. The script was filmed over six days with seven cast members, 50 background actors, and a crew of 23 that worked at nine locations. You can see the trailer here. 
To follow Delores and launch your own filmmaking career, attend an upcoming Open House and learn more about our one year hands-on training program.