When Letitia McIntosh walked into her first class at the Motion Picture Institute, we knew she had an eye for detail. She quickly learned that on film sets there are plenty of details that need to be taken care of. Letitia had an appetite to learn and brought a strong can-do attitude towards acquiring new skills.
She also ran a small business and was already comfortable with finding resources, and pulling different people together to achieve a common goal. In film school this translated into finishing three short film projects where she did everything from write the script to find the talent and recruit classmates to be her film crew.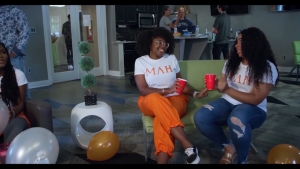 "Producing is the role I find myself falling into, but I do like finding locations, doing location management, and I've helped my classmates with a lot of different roles too."
In reflecting on her experience, she is really grateful to have classmates with such a variety of film industry specialties and interests (casting, assistant directing, production coordinating etc.). The highlights of the one year filmmaking program for her are: managing film crews, shooting her own productions and scouting for locations that bring the script to life.
All of this is evident in her thesis film, called Fresh-MAN, which she talks about in her recent alumni interview with us. You can watch it below, then sign up for your very own tour of our studio.
We also offer monthly Open House events where you can meet alumni like Letitia and participate in film set demonstrations about camera, lighting and editing. The next Open House is right around the corner, on March 27 at 11:00am and we only have a few in-studio seats left. Register to reserve yours today!