This year alumni Keith Arnold celebrated the two year anniversary of his graduation from MPI. After graduation Keith moved down to Atlanta where the film industry is booming. Thanks to his education at MPI he has worked on shows like Netflix's Cobra Kai, DC's Black Atom, and The Game. Check out the interview with Keith to see how MPI has impacted his life
Q: How's life in Georgia going for you Keith? Tell us what you've been working on.
Answer: I've been working on this show for Paramount Plus called "The Game". It's been exciting. It's my first full time show but prior to that I've day-played on Cobra Kai S4, Black Mafia Family, Netflix's Dayshift, DC Comics Black Adam and much more.
Q: I understand you're in the union. Can you talk a bit about that and how the opportunity came about?
Answer: I'm part of the IATSE 479. It's not a hiring hall. Each member must work diligently to keep continuing to get work on their own which is by networking. It does provide health insurance for you and your family. I wanted to work on movies that we're going to be on Apple, Netflix, Paramount and ect. The only way to do it is to become union so that is why I made the decision to become union.
Q: Who are some of the higher profile actors you've met while working on productions?
Answer: I've worked with Jamie Foxx, Samuel L. Jackson, Snoop Dogg and many others.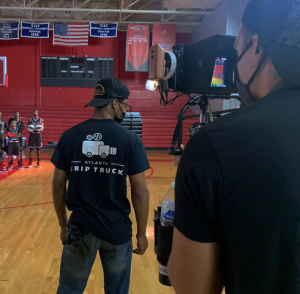 Q: What is your official job title on set and can you explain what you do?
Answer: My job title on set is Grip. I support camera and electric with what they need and also build rigs/frames to shape the light.
Q: You attended the Motion Picture Institute here in Michigan. How did it prepare you for the film industry?
Answer: Motion Picture Institute helped just learning what departments I wanted to make into a full time career. The onset education really helped me figure that out and learn set etiquette. It's a great spot for you to learn, if you make the best out of it.
Q: What advice would you give to someone aspiring to work in the movie industry?
Answer: You have to take risks! No one is gonna give it to you. You have to work for it. Your first job isn't gonna be directing the next big big-budget film. It's gonna be a production assistant position on a commercial, music video or small budget feature. Work up to bigger goals. Be humble and kind. No one wants to work with you if you think you're all that!
Q: Tell us a story about one of your on set experiences.
Answer: I used to watch the Behind the Scenes of Transformers when I was a kid. There was a stunt Coordinator explaining the explosions and action! Flash forward 10 years later, I saw the same stunt Coordinator on my first day on Black Adam. It took me 3 days to have the courage and talk to him. I explained to him that I would watch behind the scenes of Transformers and you were explaining how they did the special effects. We had a conversation which led to him showing me some of the cool special effects he has done in previous movies. It was a good memorable moment I shared with him.
Q: How important is it to be self-motivated in this business, Keith? Can you expand on this topic?
Answer: I have a crazy story about my journey moving to Georgia. I moved with no job. No connections. No family and a roommate that I barely met from Facebook. I just moved down here in the middle of a pandemic. I haven't worked a fast food or retail job since I've been here for a year. I literally had Dreams, Goals and God.
You have to be willing to take risks and not wait for other people to believe in you before you can believe in yourself. You can't wait for other people to believe in you to pursue your dream. You're gotta do it alone and do it scared! You have to wake up every day deciding whether I'm gonna stay in a spot that I don't like doing OR am I going to get up everyday and put in some work to follow your dreams.
Following your dreams is a lonely, scary and dangerous pursuit, you cannot wait for other people to think you can do it.
Q: What's next for Keith Arnold? Working on something new?
Answer: I don't have a NEXT at the moment. I'm just riding the wave of life. Whatever opportunity gets presented to me, I'm going to take it!