Breaking Into the Industry: Alumni Profile on Eva Doherty, Script Supervisor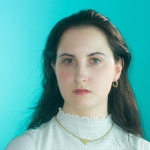 When Eva Doherty graduated from high school and was weighing her options for higher education, she took a leap of faith and walked through the halls of the Motion Picture Institute with her mom for an Open House. She did not know much about film school but was curious to explore the movie industry. That tour put her on the path to enrolling in the one year production program and eventually led her to New York, where she currently is working as a script supervisor on a variety of sets.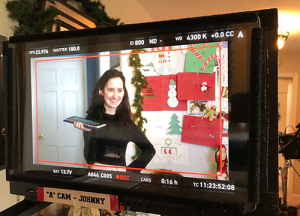 Looking back, little did she know that attending film school would give her the foundation skills needed to fasttrack a career in the film industry. At just 23, she had already joined her local union. Eva had a friend who went to a traditional four-year college but didn't get to touch a camera for years. She stepped on set right away at the Motion Picture Institute and loved how everyone wanted to create things with each other. One of the most important lessons she learned about was the power of networking. She began building meaningful work relationships on set at MPI and quickly transitioned into local productions, like Dinner in America (which took her to the Sundance Film Festival).
"My favorite moment was definitely meeting my fiancé Lukas Jacob on the set of AKA Jet and then working with him two weeks later on the set of Dinner in America. The entire project of Dinner in America was so fun to work on and holds a special place in my heart. It's a great memory to look back on and realize the film industry can be more than just about working. It can really change your life and who you are," says Eva.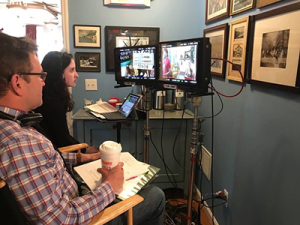 She took another leap of faith when she decided to move to New York to pursue bigger projects. Her strong work ethic and core filmmaking skills helped her find one script supervisor role after the next. "A day on set as a script supervisor for me starts with finding some coffee. Then I'll watch the first director's rehearsal of the day to get a sense of what we're shooting. I work with other departments to ensure all the continuity for the scene we're about to shoot is correct (i.e. wardrobe, props, etc.). I'm often looking ahead to the rest of the day as well. Then while shooting, I'm taking detailed notes for the editor, ensuring the takes match, recording info the camera gives me, and making sure the director gets what they want in regards to the shots and performances. It's a lot of communication and working pieces, and I absolutely love talking to people so it's always a cherry of fun on top of a stressful but rewarding job function. At the end of the day, I work on wrap notes at home, and prepare for the next day."  
While she has worked on lots of sets over the years, her favorite on set experience was recently working as a script coordinator on a pilot called East New York. She says, "It was a newer experience where I was able to learn more skills. The entire cast and crew were just so wonderful and happy to be there every day. It felt like there was something magical about what we were making." We couldn't be more happy for Eva for finding her passion and building a network and career within the film industry. If you're inspired and want to follow Eva's example, be sure to check our schedule for upcoming Open House events.