Filmmaking is an art that takes training to master. You have to understand the tools and techniques that are deployed in the industry to make the script come to life on screen. This takes time and dedication because you have to find your creative voice and cinematic style. An easy way to do this is during our one year filmmaking program, where we provide our students with everything they need, from on-set training to film-grade technology. Not to mention that our students have access to our vast alumni network. Many of our graduates are working on big name productions for Disney, Netflix, the Travel Channel and more. Some of our alumni, like Todd Douglas Miller of Apollo 11 (IMAX, CNN), have quickly built a name for themselves in the industry. Plus, our faculty are all working professionals who have been making movies for years and winning recognition near and far!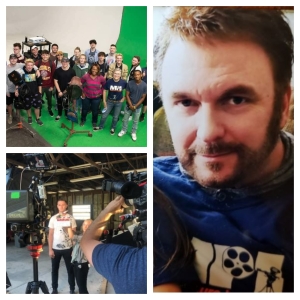 One such faculty example is award winning filmmaker and Motion Picture Institute CEO & Co-Founder Douglas Schulze. He brings three decades of film industry experience to the classroom. Outside the classroom, Schulze writes and directs independent films. His work has aired on the nation's largest pay cable networks such as HBO, Cinemax, Showtimes and STARZ.
In Doug's recent class, his students were assigned advanced level storytelling projects to develop their individual directorial styles. Through this course, students explored the relationship between the director and the actor. Studio exercises allowed student directors to work with both seasoned and inexperienced film actors to learn the delicate art of acting for the camera.
Students conducted a large scale casting call through which they learned techniques for strategic casting. From there, read-throughs and rehearsals gave the student directors a "real world" and practical experience to mold their film projects. Each student directed a short 3 to 5 minute dialogue film and here are stills from the projects.
To learn how to make films of your own, you can visit the Motion Picture Institute for yourself. Register for the upcoming Open House to see what it's like to learn on a movie set everyday. You will also meet alumni and engage in acting, lighting, camera and editing demonstrations during the event. Space for the live audience is limited so register now to save your spot!